Overview: Road Trip And Things To Do In Waynesville NC
This small town is one of the largest in Western North Carolina with Maggie Valley being its close neighbor. Downtown Waynesville has an antiquated yet urban appeal that is great for walkable shopping of local artisan goods and boutiques.  As you will see, there are many things to do in Waynesville NC. For tourists interested in enjoying the uniqueness, Waynesville has a vibrant farm-to-table restaurant theme and a few craft beer breweries calling the town home. Its close proximity to outdoor adventure and the Blue Ridge Parkway makes it a popular destination. Once you experience this small town, it'll have you wanting to visit again!
Day One: Road Trip And Things To Do In Waynesville NC
Morning:
Breakfast at the Meadowlark Lobby or at Smoky Mountain Coffee Roasters
444 Hazelwood Ave Waynesville, NC 28786 828-452-1212
The hours for the spot are 8:00AM-3:00PM Wednesday-Sunday, Closed Monday-Tuesfay
Start your morning off right with a delicious cup of coffee or tea that this local spot in Waynesville. This barista joint offers hot drinks, pastries and light breakfast options that are perfect to begin your fun packed day.
Hike a trail and experience the Western Carolina Mountain beauty.
Pick a trail; AllTrails app is a great resource for picking the right trail for you with directions included.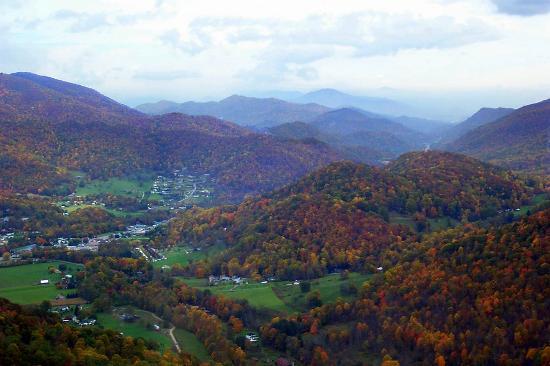 Recommendations:
Little Cataloochee Trail (Easy) is 10.5 miles with various stopping points.
Max Patch Loop (Easy) is a 1.5 mile trail located near Hot Springs, NC.
Waterrock knob trail (Moderate) is 1 mile moderately trafficked out and back trail located near town.
The Mount Sterling Trail (Hard) Mount Sterling Trail is a 2.06 mi trail. The trail is located in Waynesville, North Carolina.  This can be found by following the Old Cataloochee turnpike. Trail coordinates Lat: 35.700858 Lng: -83.105111
As always, make sure you're prepared before you hit the trail.
Winter Hiking Tips:
Tell someone where you plan to go and make sure they call the appropriate people if you do not return
Watch for icy spots along trails. Similarly to black ice on roads, some of the most convincing spots can be a hazard. Stay away from rocks along creeks and water falls to avoid this danger.
If fresh snow is on the ground be aware that it can obscure the hiking trail
Allow for plenty of tip to get back to your car, the sun sets early in the winter—maybe even earlier than you are accustomed to.
A few recommended safety precautions; pick up an emergency thermal blanket, they are small, lightweight, inexpensive. Also consider carrying a lighter to build a fire in case you need to be rescued [God forbid].
Make sure your cell phone is fully charged before your expedition. It's critical to switch your phone to airplane mode or turn it off when not in use to save battery life. As you pass through areas with spotty service, your phone will constantly be searching for a signal.
Stay on the trail if you can though — it makes it easier for search crews to find you.
Some areas of the parkway maybe closed due to weather conditions. For more information about maps and trail accessibility visit the Haywood County Visitor Center–Address: 1110 Soco Rd, Maggie Valley, NC 28751 Phone: 800-334-9036.
Afternoon:
Lunch at the Church Street Depot
Hours are 11:00AM-8:00PM Monday-Saturday, Closed Sunday Phone: 828-246-6505
After your morning hike warm up to a cozy lunch spot for a quick eat.
The Church Street Depot is a locally owned restaurant serving diner inspired food with burgers, fries, shakes/floats. Menu

Check out Craft Breweries in the Heart of Waynesville!
Warm up with a locally brewed seasonal ale. Haywood County is home to four micobreweries: Boojum Brewing, BearWaters Brewing, Frog Level Brewing, and Tipping Point Brewery and Tavern. Each has its own distinct taste, so spend the afternoon at one (or more) trying their various taps. Order up a frosty flight and don't forget to grab a growler of your favorite to take home.
Evening:
Shopping in Downtown Waynesville
Historic Main Street, Waynesville 28786Time to warm up! Head over to Main Street in Waynesville and grab a hot chocolate and explore the many unique shops and boutiques that Main Street has to offer. You'll find everything from outdoor gear and one-of-kind gifts to fine art and handmade jewelry. It's the perfect evening activity after a hike.
Dinner at Frankie's Italian Trattoria
1037 Soco Rd, Maggie Valley, NC 28751 Call for Reservations: 828-926-6216
Hours for this restaurant is 11:30AM-9:00PM Monday-Thursday, 11:30AM-9:30PM Friday-Saturday
On your way back to the Motel from your fun packed day in the Waynesville area, Maggie Valley's own Frankie's Italian Trattoria will be a relaxing way to end your day. This restaurant is known for their lasagna, veal marsala & pizza. Menu
Day Two : Road Trip And Things To Do In Waynesville NC
Morning:
Breakfast at the Meadowlark Lobby or Panacea Coffee House, Cafe and Roastery
66 Commerce St, Waynesville, NC 28786 Phone: 828-452-6200
Hours for this breakfast spot is 7:00AM-5:00PM Monday-Friday, 8:00AM-5:00PM Saturday, 10:00AM-3:00PM Sunday
This breakfast spot is located in Waynesville's Historic Frog Level. The Frog Level served as the town's industrial district from the late 1880s until the late 1940s. Previously known throughout Waynesville as Boyd Wholesale Grocery for most of its years. The owners did their best to preserve its many historical features of the building, which gives it a rustic nostalgia feel. There is no mistake that first time visitors will feel warm and cozy. They also sell and package in house coffee beans sourced internationally, pick one up to take home or you can join their coffee club to have a fresh roasted beans delivered every month!
Elk viewing in the Cataloochee Valley
Most elk viewing can be done in the Cataloochee Valley in the southeastern section of the Great Smoky Mountains. Though some elk herds have migrated to other areas such as Oconaluffee and Ravensford area. However, Cataloochee Valley remains the prominent area for elk viewing. Its location is in a remote area, so once you leave Highway 276 there is no food, gas or other commercial services available. We recommend you stop by a filling station before your drive into the valley. The best time to see the elk is at sunset and sunrise when the elk come from the wooded areas to feed for an hour or two before returning during the day. There is only one road in and out of Cataloochee Valley, so practice caution and remember to share the road with fellow elk viewers. It is not permitted to feed or to obtain elk antlers along the drive. It is a general rule to remain in the vehicle at all times as elk can be dangerous if approached, even if they are not observable. It is illegal in the park's regulation to disturb or displace an elk or their herd.Seasons for Viewing
Winter: Elk wear a doubled layer coat during the colder months. Typically herds may move from the high country to the valleys to feed. Unfortunately they may not be seen for weeks.
Spring: Elk typically shed their antlers as early as March. The antlers are rich in calcium which are quickly consumed by other wildlife in the ecosystem.
Summer: Most calves are born in the early summer months. Males will roll in mud wallows to keep themselves cool from the sweltering heat.
Fall: The elk's breeding season is best known as the rut, which runs from mid-September to late fall. During the rut season, Males can be seen making buging calls to challenge other bulls and attract females. Dominant bulls use the fields to gather and breed with up to 20 cows. Bull elk actively charges any threat to their territory and sparring with its antlers with other males. Encroaching too close to a bull may warrant the animal to perceive the vehicle as a threat.
Afternoon:
Lunch at Clyde's Restaurant
2107 S Main St, Waynesville, NC 28786 Phone: 828-456-9135
Hours for this restaurant is 7:00AM-9:00PM Tuesday-Sunday, Closed Monday
This is an old-fashioned diner that has been a local favorite for decades. They serve southern-inspired comfort food including breakfast, burgers and pies.
Tour Sunburst Trout Farms
314 Industrial Park Dr. Waynesville, NC 28786 Phone: 800-673-3051 / 828-648-3010
Tour days: Monday, Tuesday, Thursday, and Friday
Call ahead to schedule a guided tour. Tours are $2 a person plus tax.
Before You Go: Wear closed toe shoes, small children must be with an adult at all times
Sunburst trout farms is a three generation family owned and operated business that has called Waynesville home for decades. Tours provide insight on how they farm raise their trout in a sustainable way from the waters of the Shining Rock National Wilderness
Evening:
The Strand on 38 Main
38 N Main St, Waynesville, NC, 28786 Phone: 828-283-0079
Showtimes/listing: call or visit 38main.com
The lounge is open to the public 12:00PM-9:00PM Monday –Thursday, 12:00PM–midnight Friday, 10:30AM-midnight Saturday and noon–9:00PM on Sunday.
Wind down your fun packed day with a relaxing venue for after five entertainment. The movie theater is a blast to the past in a vintage setting. The Strand is known for hosting various movies, live music and more. Their featured menu includes local ice cream, beer, wine, full coffee bar, and theater snacks.
Dinner at J Arthurs Restaurant
1037 Soco Rd, Maggie Valley, NC 28751
Hours for this restaurant are 4:30-9:00PM Wednesday-Sunday, Closed Monday-Tuesday
This restaurant is known for their traditional American fare in a family-friendly mountain lodge setting with a lofted dining area located in the heart of Maggie Valley. J. Arthurs menu features gorgonzola cheese salad, succulent prime rib, and all-natural steaks and also have a variety of seafood, pasta, grill and salad entrees. Menu