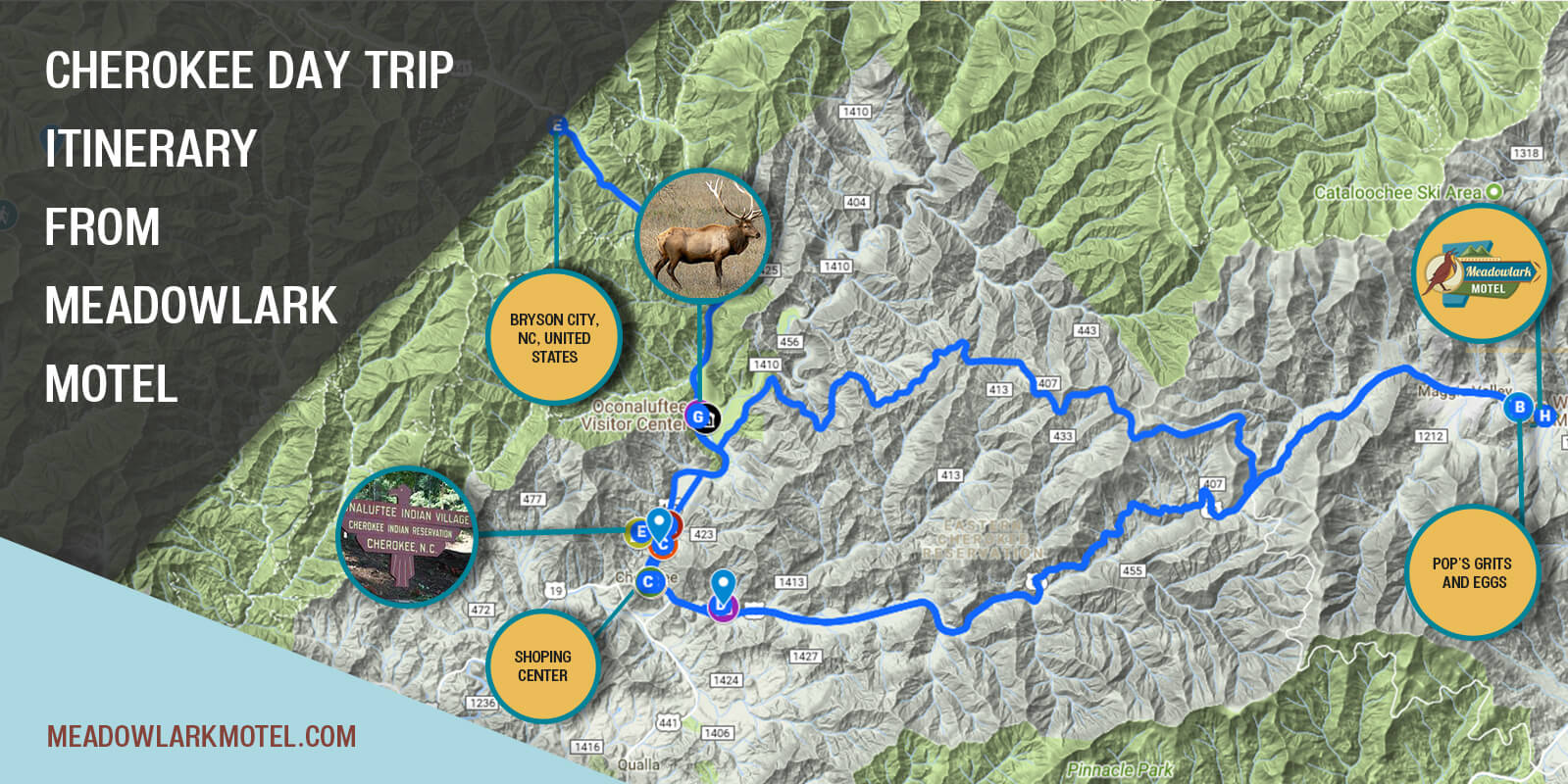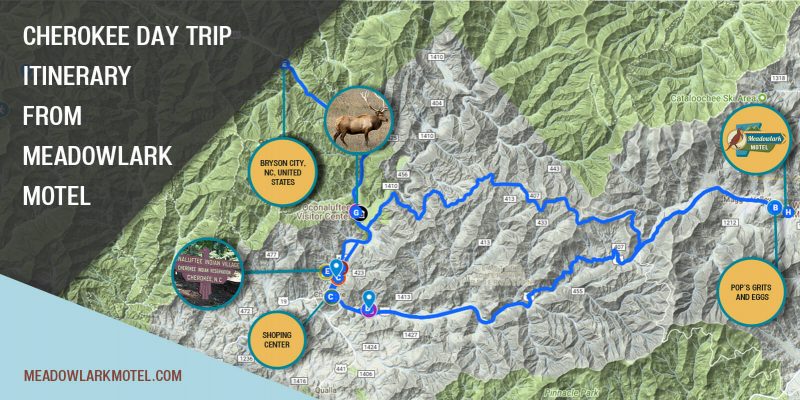 Overview: Attractions in Cherokee – Road Trip and Things To Do In Cherokee NC
Cherokee, NC is located at the entrance to the Great Smoky Mountains National Park. Only a thirty minute drive from Maggie Valley, this town serves as the center for the Eastern Band of Cherokee Indians. Rich in history, the area has many historical events year round focused on previous settlements and Cherokee culture. Tourists can find things to do in Cherokee, NC like tribal-run botanical gardens, museums, an arts and crafts center and dramas. Outdoor activities in the area are abundant with plenty of hiking trails and river accesses. And viewing the majestic wild herd of elk in Cherokee, NC is at the top of everyone's to-do list.
Overview: Great American North Carolina Road Trips: Maggie Valley To Viewing Elk in Cherokee, NC and More
Are you one of those types of people who load up the kids in the car and pick a new and spontaneous adventure to go on? If so, then this article is for you. For several years now, I have been documenting my travels with my 4-year-old daughter, across the United States. I have done a lot of hit and miss research, and have picked out some of the best places for families to drive on single day and weekend road trips.
Maggie Valley is a beautiful town, with tourist stops open year round, and plenty of hotels and restaurants, to satisfy all of your families needs. Whether you are driving on the cheap, or going all out, Maggie Valley has it all. Most hotels are less than $100 on the weekend, unless you arrive at the peak tourist season in summer, then they tend to get a little pricey. If you book ahead, usually you can get a better rate, especially if it's off-season and not on a weekend.
One of Maggie Valley's many great adventures is elk watching. While Cataloochee Valley is the most popular place to see the majestic wild herd, you're just as likely to spot elk in Cherokee, NC. Find them grazing in the fields next to the Oconaluftee Visitor Center, the lowland fields about 1 mile up US 441 in the National Park, or next to the Job Corps Civilian Conservation Center area just north of the visitor center. If you're on the Oconaluftee River Trail, you can occasionally spot elk enjoying the water or roaming the surrounding trail, especially in fall. Another option is the area around the Cherokee school's complex, about 1.5 miles up Big Cove Road. Just beyond the schools the Eastern Band of Cherokee Indians has created a grassy area and garden just for the elk in Cherokee, NC.
Horseback riding is another popular thing to do in Cherokee. Queens stable is located just off Soco Road and has been in business since 1948. It offers trail rides on 200 acres of family owned farm, with beautiful mountain views and pristine natural surroundings. It costs $20 for a 1-hour ride, or for $30, you get a 1 hour 45 minute ride to the top of the mountain and along the ridge. They accommodate children 6 and up and adults up to 235 pounds. They are open from around April 1st through until November, but they do offer other rides during other times. Just be sure to call and check first. To reach them call (828)926-0718
Wheels Through Time, is a great place to stop in, and enjoy one of the best transportation museums in the eastern United States. They have well over 10,000 pieces of memorabilia, ranging from early, turn of the century motorcycles, to classic cars and racing memorabilia. They even have Steve McQueen's Cadillac! Admission is $12 for adults, $10 for seniors, and half price for children 12 and under. They can be reached at (828)926-6266 or online at www.wheelsthroughtime.com It's a definite destination stop for motorcycle enthusiasts and racing fans alike.
If you like to ski or just play in the snow, then Cataloochee ski area is the place for you, during your trip through Maggie Valley. Located at the end of Maggie Valley, near the Ghost Town in the Sky, it offers skiing, snowboarding, and tubing. Because of the large amount of information they offer on skiing dates and pricing, I suggest you contact them at (828)926-0285 or online at www.cataloochee.com The web address provides maps to the lodge and of the skiing area, as well as live web cams of their skiing and tubing areas. The best times to visit are just after Thanksgiving . They have artificial snow machines, so Cataloochee ski area is the first one to open and the last one to close.
As you leave town, and head towards the Great Smoky Mountains national park, you enter the Qualla boundary, also known as the Cherokee Indian reservation. It consists of nearly 57,000 acres of federal government public trust lands. With a large amount of family oriented activities, this town of 9,000 residents has an abundance of places to visit and see. The Oconaluftee Indian Village is a great place to take the kids. There they have a working Indian village, with all native Cherokees, to help explain the ways of life they once knew, before the advent of modern technology. There is also a fascinating play that has been in production for almost 60 years, entitled "unto these hills" that tells the infamous tale of "the trail of tears" when Cherokee and other local tribes were moved to Oklahoma. One of top three Native American museums in the United States is located here, and in 1998, it went under renovation, and today, provides a great hands on experience for adults, as well as kids. To find out more about Cherokee, NC and its attractions go online at www.cherokee-nc.com or phone them at 800-438-1601
Day One: Road Trip and Things To Do In Cherokee NC
Morning Activities:
Breakfast at the Meadowlark Motel Lobby or Pop's grits and Eggs
3253 Soco Rd, Maggie Valley, NC 28751 Phone: 828-944-0677
This local breakfast spot is nestled in Maggie Valley on your way towards Cherokee, NC. Known by locals and visitors for their omelets and pancakes, it's a sure fire way to begin your Cherokee, NC adventure off right.
Tour the Cherokee Culture at The Museum of the Cherokee Indian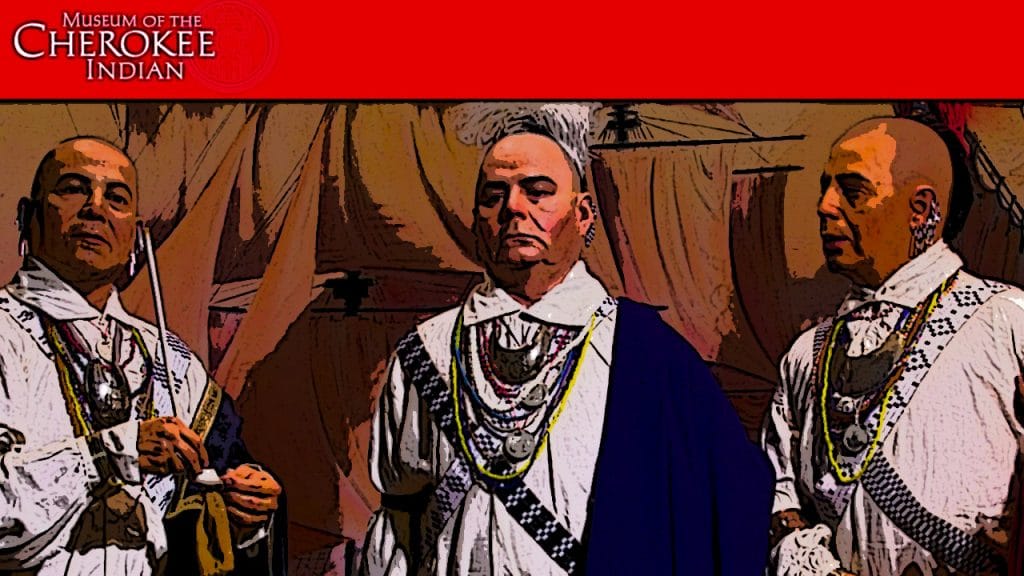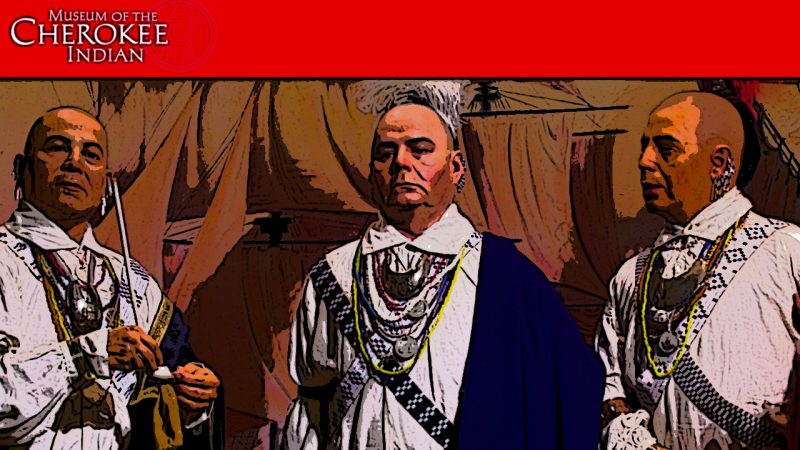 Cherokee Culture at The Museum
Location: 589 Tsali Blvd. Cherokee, NC at the intersection of Tsali Blvd. and Drama Road
Winter Hours (Sep–May) is 9:00AM–5:00PM Monday-Sunday. Phone: 828-497-3481
ADMISSION: Adults $11; Children (ages 6–12) $7; Children 5 and under admitted free.
Experience the history of the Cherokee tribe displayed vividly. If your idea of a museum includes dusty displays, this museum is anything but. It's inspired by the exquisiteness and ingenuity of the Cherokee people. Visitors will experience culture and history fused with an interactive video, intriguing displays, and a full sensory experience. Guests will learn about the Cherokee people's inventiveness, resilience, and will to survive through troubling periods in history. The journey will illustrate who the people of Cherokee really are, where they came from, and why they're still here.
Afternoon Activities:
777 Casino Dr, Cherokee, NC 28719 828-497-7777
Lunch at Harrah's Cherokee Casino offers many restaurant and meal options to choose from: Earl of Sandwich, Selu Garden Cafe, Ruth's Chris Steakhouse, Brio Tuscan Grille, Chef's Stage Grill, Johnny Rockets, Lobby Cafe, Pizzeria UNO Express, The Noodle Bar and much more.
Spa Treatment
Spend your afternoon with a relaxing treatment at the Mandara Spa at the entertainment venue
Shopping/Bowling
The Casino has various shopping options with gifts and apparel available.
ULTRASTAR multi entertainment area with a 24 lane bowling alley and bars.
Evening Activities:
Essence – the Harrah's Cherokee Casino nightspot
Gambling – Games from poker to slot machine are available.
Attend a live show at their event space!
Day Two : Road Trip and Things To Do In Cherokee NC
Morning Activities:
Breakfast at the Meadowlark Motel Lobby or Qualla Java Cafe
938 Tsalagi Rd, Cherokee, NC 28719 Phone: 828-497-2882
The shop operates from 7:00AM-3:00PM Tuesday-Friday, 8:00AM-5:00PM Saturday, 9:00AM-3:00PM Sunday, Closed Monday
This local coffee and light breakfast fare spot is a great way to begin your morning journey in Cherokee, NC. You will find this spot in an outdoorsy shopping center that has local Native American shops. Its name is an homage to the land on which it was built; previously tribal land.
Local Shopping
Visit the shopping center where Qualia Java Café is located.
Afternoon Activities:
Lunch at BJ's Diner
840 Tsali Blvd, Cherokee, NC 28719 Phone: 828-497-4303
This restaurant operates from 11:00AM-6:00PM Monday-Saturday, 11:00AM-4:00PM Sunday. Riverfront located, this roadside spot may not impress the fancy food critics. But as the old saying goes, don't judge a book by its cover. They are known for delicious burgers and quick eats with outdoor seating next to the river. If you're looking for a budget friendly stop this is the place!
Blast to the Past at Oconaluftee Indian Village
218 Drama Road, Cherokee, NC Phone:828-497-2111
The hours of this location are 10:00AM-4:00PM Monday-Saturday with tours every 15 minutes and Closed Sunday [Please note: This location operates beginning APRIL 18 to Mid NOVEMBER.] The Oconaluftee Indian Village is a replica of an ancient tribal homestead. As visitors travel the trail they are immediately transported back in time to the 1760s. As you tour the area, a Cherokee cultural expert will show you the way with information about cultural displays and processes that are sacred to Cherokee traditions. Guests will have an opportunity to interact with the villagers as they craft canoes, sculpt pottery and masks, weave traditional baskets and style beadwork.
Or
Picturesque Views from Clingsman Dome
This lookout tower is located by following US-441 to Clingsman Dome Rd near the Tennessee/North Carolina border [note: during winter, the road leading to the tower is closed DECEMEBER 1-MARCH 31; 7 mile hike on the road]. Once you reach Clingsman Dome Rd,  you will follow the road to the parking lot. Clingsman Dome is the highest point in the Great Smoky Mountain National Park. The tower gives visitors a 360° view of the Smoky Mountains. On the clearest days, views can expand as far as 100 miles. On your way to the observation tower, stop at the Clingsman Dome Visitor Center for more information. For accessibility information during any season contact 828-436-1200. Preparation for the high elevations is essential. Bicycles and pets are not permitted on the paved trail to the observation tower. And the trail to the tower is not wheelchair accessible.
Evening Activities:
Elk viewing at the Oconaluftee Visitor Center and Mountain Farm Museum
Winter: Elk wear a doubled layer coat during the colder months. Typically herds may move from the high country to the valleys to feed. Unfortunately they may not be seen for weeks. During the winter the park is often closed due to accessibility issues, it is recommended that tourists call the visitor center prior to their planned trip.Spring: Elk typically shed their antlers as early as March. The antlers are rich in calcium which are quickly consumed by other wildlife in the ecosystem.
Summer: Most calves are born in the early summer months. Males will roll in mud wallows to keep themselves cool from the sweltering heat.
Fall: The elk's breeding season is best known as the rut, which runs from mid-September to late fall. During the rut season, Males can be seen making buging calls to challenge other bulls and attract females. Dominant bulls use the fields to gather and breed with up to 20 cows. Bull elk actively charges any threat to their territory and sparring with its antlers with other males. Encroaching too close to a bull may warrant the animal to perceive the vehicle as a threat.
Cherokee North Carolina Events