I remember playing golf with my grandpa as a kid on the Maggie Valley Golf Course. My grandpa had an odd sort of swing – he didn't move his legs at all – it was all upper body. But he did pretty good – just long enough shots to get there. My shots were all over the place, but long – so he would patiently wait each round as I went out to find my ball.  Playing golf in Western North Carolina is sort of like that – very relaxed and not in a hurry, with spectacular scenery, long shots, and a different kind of swing.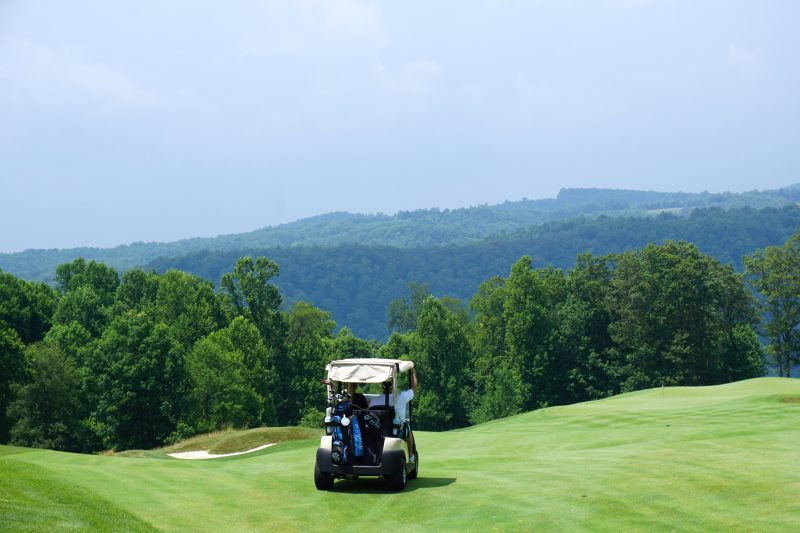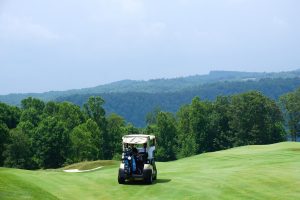 That being said, I recommend you plan your next great vacation on the Maggie Valley Golf Course or from our list of other local courses that have the most scenic greens in Western North Carolina. From mountain top views to gorgeous streams, ponds, landscaped grounds and lush gardens, our golf courses are sure to please even the most ardent golf enthusiast. Nothing can compare to the experience of golfing in the Smoky Mountains, except adding in other experiences, such as whitewater rafting, gem mining, mountain music, comfortable lodging beside a rushing creek and exceptional Smoky Mountain cuisine. Satisfy your yearning for magnificent scenery, a relaxing getaway and a challenging round of golf with these popular golf experiences near Maggie Valley.
The Maggie Valley Golf Course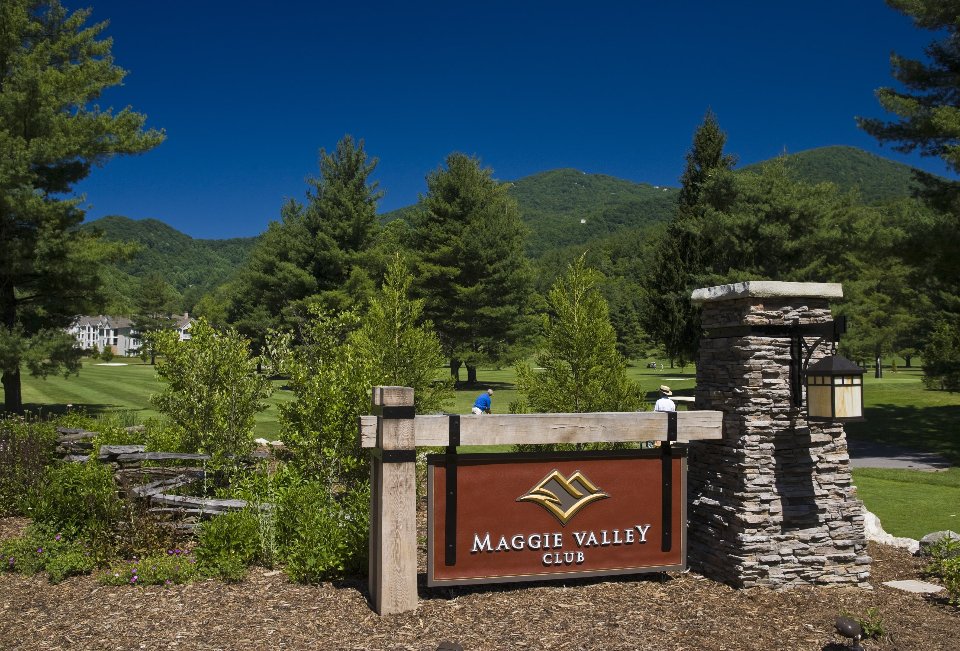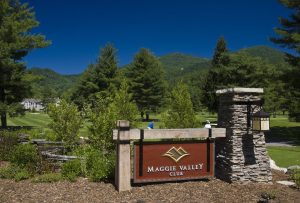 Maggie Valley has its own golf course – the Maggie Valley Club. Set at 1819 Country Club Drive in Maggie Valley, the Maggie Valley Club offers a 6,500-yard championship golf course. It is one of only three gold courses in the state of North Carolina.  Resting between the Blue Ridge and Great Smoky Mountains at about 3,000 feet of elevation, there are spectacular views of the Smoky Mountains at this Maggie Valley golf course, which is situated on the well-kept grounds of Maggie Valley Club. Enjoy casual dining in the 18,000-square-foot Clubhouse. The Club is open Monday through Sunday, 9am to 5pm. Call 828.926.6013 for more information.
The Maggie Valley Golf Course is one of five Haywood County entries selected for the NC Travel Guide, which had this to say:
"It's a tale of 2 nines: the front Valley Nine's winding, sloping fairway vs. the back Mountain Nine's dramatic elevation changes"
Golf Courses Near Maggie Valley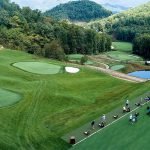 Balsam Mountain Preserve Arnold Palmer Signature Golf Course  – Located at 81 Preserve Road, Sylva, NC,The course rests on Palmer's belief that a course must be both truly beautiful and serve the game in an unrivaled experience – the end result is a mountain golf course in a class of its own. At elevations reaching 3700', this scenic gem requires golfers of all skill levels to use every club in their bag. Rather than having one signature hole, Balsam has 18. No other mountain course offers such breathtaking views, incredible wildlife, and outstanding level of service.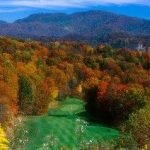 Laurel Ridge Country Club – Located in nearby Waynesville, Laurel Ridge is a short drive from Maggie Valley, and 30 minutes from Asheville. Enjoy breathtaking views atop Eagle's Nest Mountain. Challenge yourself with hills, inclines and rolling meadows at this 18-hole championship golf course surrounded by beautifully maintained grounds with streams, ponds and mountain scenery. They also offer a driving range, two putting and chipping greens, a fully stocked Pro Shop, and more. Call 828.452.9260 for more information on this golf course.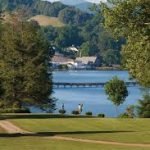 Lake Junaluska Golf Course – Situated at 756 Golf Course Road in Waynesville, NC, Lake Junaluska Golf Course is an 18-hole, 68-par golf course that features lovely views of Lake Junaluska and the Smoky Mountains. Just a short drive from Maggie Valley and 20 miles from Asheville, Lake Junaluska is a resort-style mountain community centered around a 200-acre, scenic lake. Call 828.456.5777 for more information.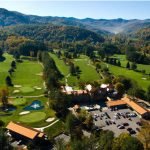 Golf Course at The Waynesville – Located at 176 Country Club Drive in Waynesville, The Waynesville Inn Golf Resort & Spa offers 27 holes of championship golf for golfers of all skill levels. Set in the shadow of the Blue Ridge Mountains, this facility also offers a bar and grill, along with an on-site spa.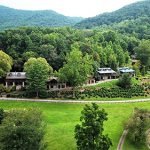 Springdale Country Club – Located at 200 Golfwatch Road in Canton, NC. With lovely views of Cold Mountain, Sugar Top and Rocky Face, this course was built in 1968 and provides a very scenic golfing experience.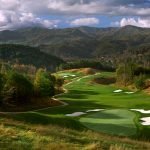 Sequoyah National Golf Club – This par-72 championship golf course is owned by the Eastern Band of the Cherokee and offers an idyllic 18-hole journey featuring scenic vistas, expansive landscapes and challenging golf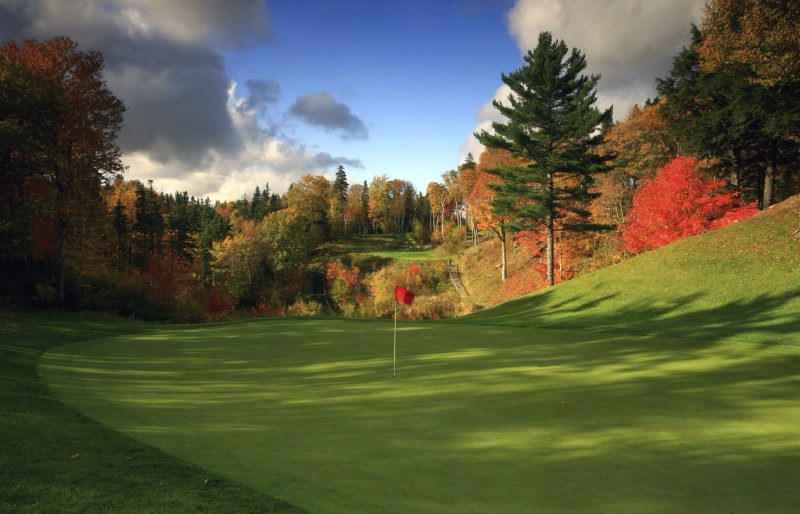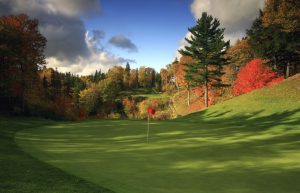 The Asheville Golf Course – Asheville Golf Course – Listed on the National Register of Historical Places, the Asheville Golf Course is one of the oldest golf courses in Western North Carolina, and was designed by Architect Donald Ross. The par-72 course is set within a scenic setting of manicured greens, surrounded by trees and rolling hills. Visit the Asheville Golf Course website to learn more.
Other Western North Carolina Golf Courses
The Cliffs at Walnut Cove – Located at 158 Walnut Valley Pkwy., Arden, N. Built in 2005 and designed by Jack Nicklaus, this premier private course has some of the most amazing mountain views.
Reems Creek Golf Course – Located at 36 Pink Fox Cove Rd., Weaverville, NC. This semi-private course was built in 1989 with the help of Fred and Martin Hawtree and is open year round.
High Vista Country Club – Located at 88 Country Club Rd., Mills River, NC. With its high season being April through November, this semi-private and year round course was built in 1976 and designed by Tom Jackson and Lester George.
Cummings Cove Golf & Country Club – Located at 20 Cummings Cove Pkwy., Hendersonville, NC. This semi-private course was built in 1985 and designed by Bob Cupp + Gus Grantham making it a great place for year round fun.
Broadmoor Golf Links – Located at 101 French Broad Ln., Fletcher, NC. Built in 1993 and designed by Karl Litten, this semi-private course is provides great views of the French Broad River Valley.
Black Mountain Golf Course – Located at 17 Ross Dr., Black Mountain, NC. Open to the public, this year round course was built in 1929 and designed by Donald Ross.
Tips for Smoky Mountain Golfing
Now there are some differences to be aware of when golfing on mountain courses. Like, if you are on an uneven lie, swing the club slower than normal to keep your balance. Here are 3 tips from the Golf Channel:


Some other tips we have:
When you are on a side  hill, with your feet below the ball:  

Choke down on the grip

Allow for a slight pull and/or hook

Play ball in the center of stance

Place weight on the balls of your feet

When you are on a side  hill, with your feet above the ball:

Take more club than you feel is necessary

Play ball closer to your feet and in center of stance

Allow for slight fade

Place weight on the balls of your feet
When you are on a downhill:

Set your body with the slope of the hill

Use one less club than normal

Move the club as parallel to the slope as possible

Allow for a low shot that may fade
When you are on a uphill:

Set your body up with the slope of the hill

Use one club more than normal and choke down

Play ball in the middle of stance

Allow for a higher shot than normal that may be pull-hooked
Lodging Near Maggie Valley Golf Courses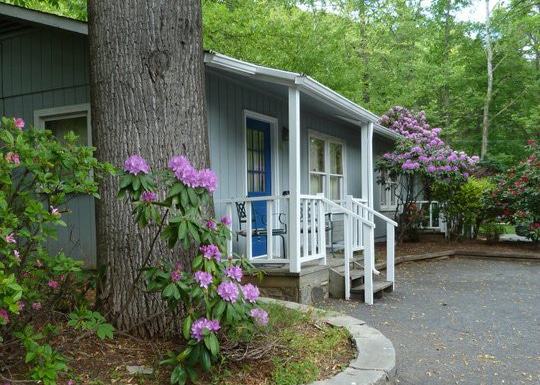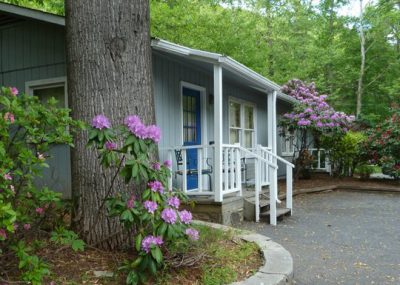 Set in the heart of Maggie Valley, NC, Meadowlark Motel is a legendary motel with a distinctive blend of accommodations, from Creekside cabins to comfortable guest rooms and spacious suites with separate living, dining and sleeping areas. Some accommodations feature jetted tubs, fireplaces, full kitchens or kitchenettes. Meadowlark is just a short drive from the Great Smoky Mountains National Park, the Blue Ridge Parkway and other Maggie Valley attractions. You can walk to great local restaurants and to the Maggie Valley Festival Grounds.
Enjoy great guest services including local wine and craft beer tastings, in-room private spa services, family nights and Saturday night cookouts. Take in a live performance by a local musician on select nights. Enjoy complimentary Wi-Fi, Continental breakfast and a seasonal outdoor pool, as well as a Creekside recreation area with outdoor furniture and a fire pit. Meadowlark is located just minutes from the Maggie Valley golf courses, Asheville Golf Course and other golf courses near Maggie Valley.
Meadowlark Motel offers an array of packages and specials, including a Waterfalls Excursion Package (with a friendly local tour guide), a Beer Tastin' at the Station Package (with lodging, transportation and tickets to the nearby Experience), a Biltmore Estate Package (with an amiable chauffeur), and much more. They can even craft a Golf and Smoky Mountain Experience Package just for you. Explore their offers and start planning your next great golf vacation today.